Feed In Tariff – FIT
STOP PRESS   Feed-in Tariff to End in April 2019 for New Registrations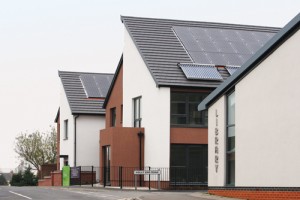 The Feed in tariff was set up in order to encourage individual properties and small businesses alike to generate and use locally produced power. The Government's target is to eventually produce 15% of the UK's power requirement by renewable, localised means (at present it is nearer 2%). This is in order to lessen dependency on imported power and help attain lower carbon emission targets. In order to engage homeowners in micro production the Government have had to create an attractive proposition; that of paying a good rate of return on the selected technologies: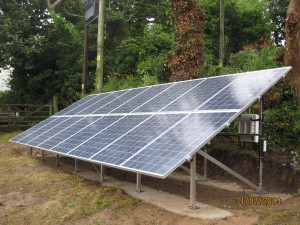 Solar PV (electricity generation) as opposed to Solar Thermal for hot water which is in a different funding stream. The best is rate (currently around 4p per kWh for up to a maximum of 4kWh system)
Hydro power  – from streams / rivers etc, Up to 15kWh earning the best domestic rate
Wind power – from small scale 1.5kWp systems earning the highest rate to huge 1.5mkWh
MicroCHP – these are home installed boiler-generators that create power as well as heat the home
In each instance, and for each of these renewable technologies, there is a regularly updated scale of FIT payments, based on the changing capital and installation costs of the technology, and the amount of kWp the system is rated at. Given the appropriate site, location, space and orientation each method can be a good investment with competitive returns and benefits.
Solar PV – an illustration
Mr Watts has a bungalow in Cornwall, with a sunny back garden that is south facing and undisturbed by tree shading. He has been quoted £5500 to an approved (MCS) Installer to fit an 16 PV- panel system which totals 4kWp by design. This is the maximum output eligible for the biggest tariff of circa 4.9p. The Installer informs Mr Watts that in order to get the FIT rate of 4.9p (reviewed quarterly), he will need an EPC carried out (£59), which must get  55% or over (a D rating), otherwise the tariff drops to about half (about 3p per rkWh).
The EPC is carried out and fails to reach 55%, being 5 points short of a D rating, but the Assessor informs Mr Watts, that after installation of the 4kWp of PV, he will attain a new higher rating of 64%, and will consequently secure the higher FIT payment.
Mr Watts then needs to be convinced that the investment is worthwhile, so the Installers, using Government approved assumptions produces some calculations:
FIT is made up of 3 parts:
Fixed payment (currently 4.11p kWh) for an expected 3800kWh produced per year making £156.18.
Export Tariff 4.64p for 50% of generated units not used is 1900 units at 4.64 pence totalling £88.16.
Savings of 1900kWh @ 14.5p is the assumption that you will use 50% of the generated power, saving 1900 units that you would have had to pay an average of 14.5p for being £275.5
Therefore you will gain a total in the first year of  £519.84, an expected return of circa 10% per annum
In addition, the FIT contract is:
20 years
Index Linked
Tax free
There are risks involved such as less sun, damage, failures and malfunctions, but equally the margin will be greater with any further rises in electricity costs in the next 20 years. The principle remains in all cases; you must have the right roof in the right place and the right Installer. An Independent Energy Assessor is always a good first move.
For further information, look at the Energy Saving Trust website
removeslashes